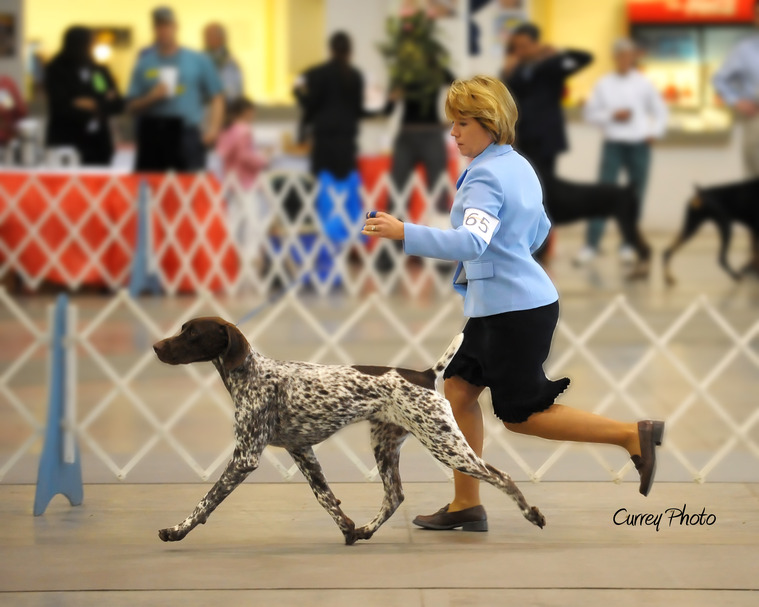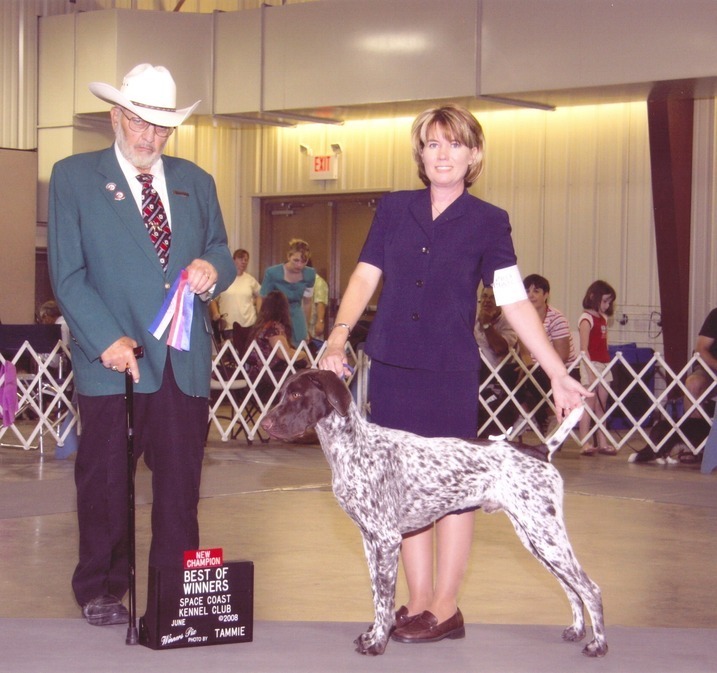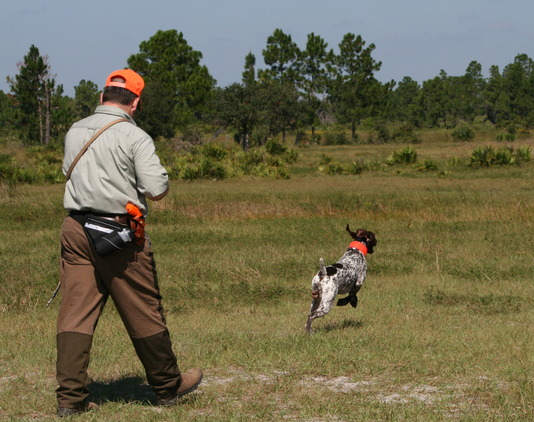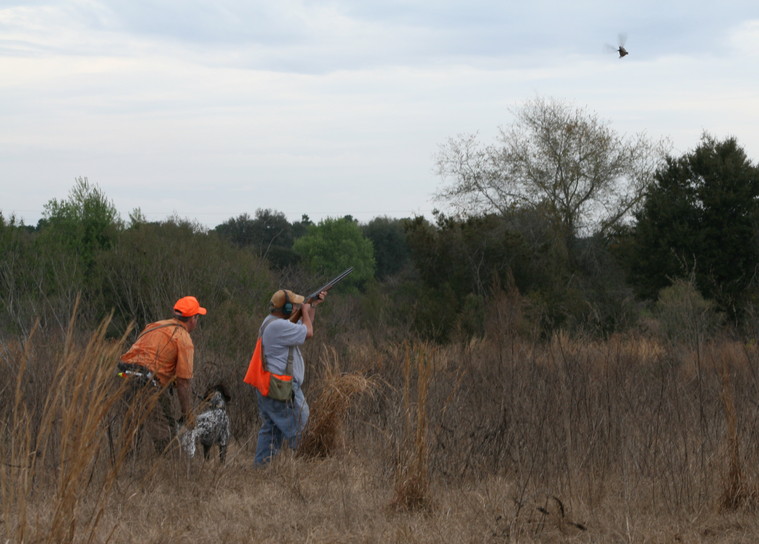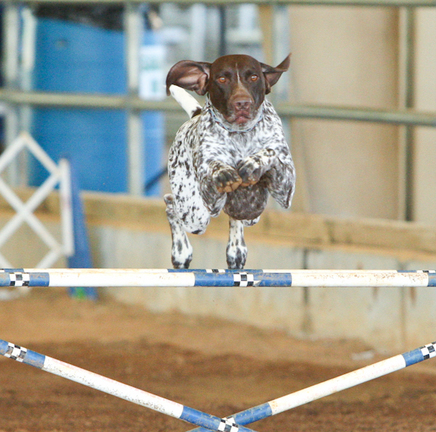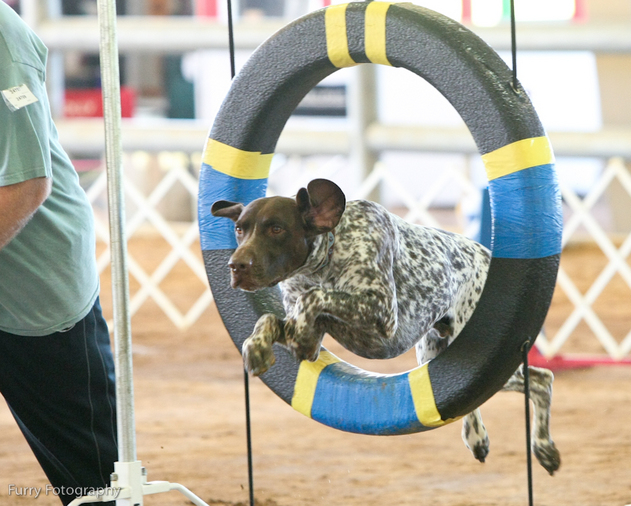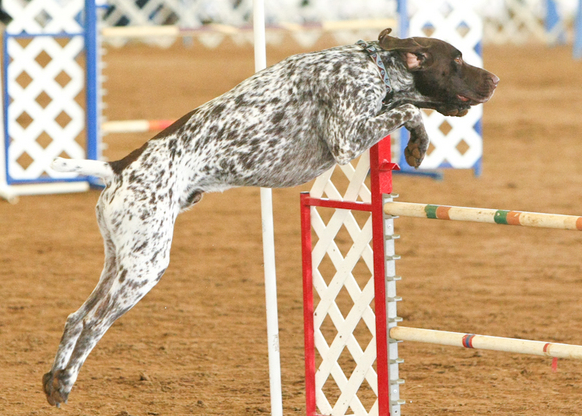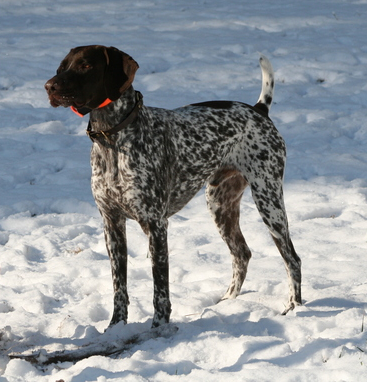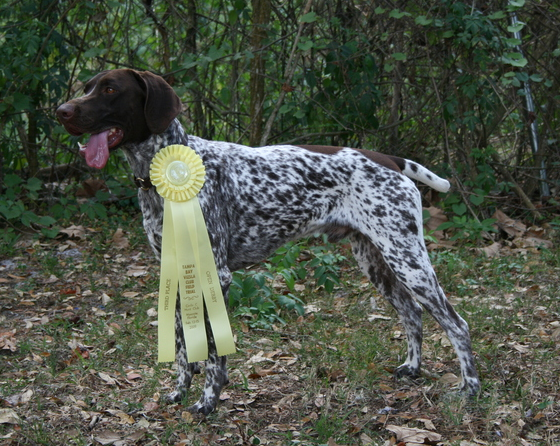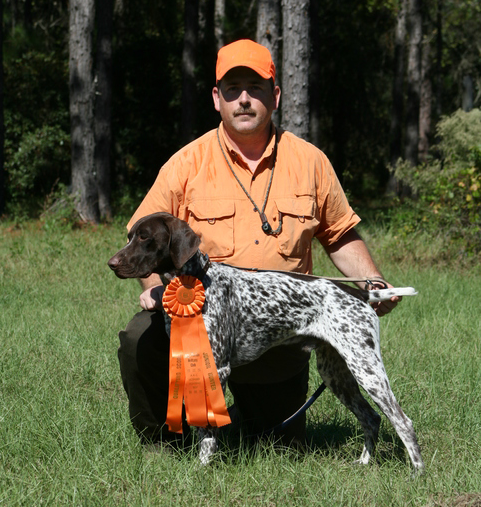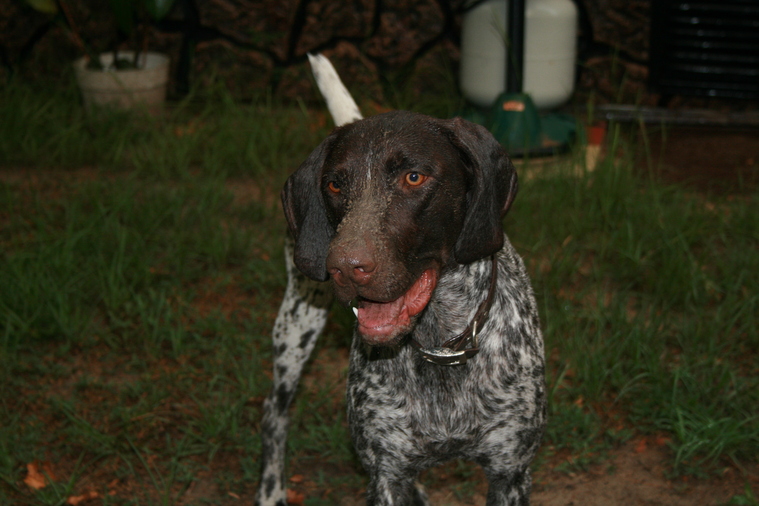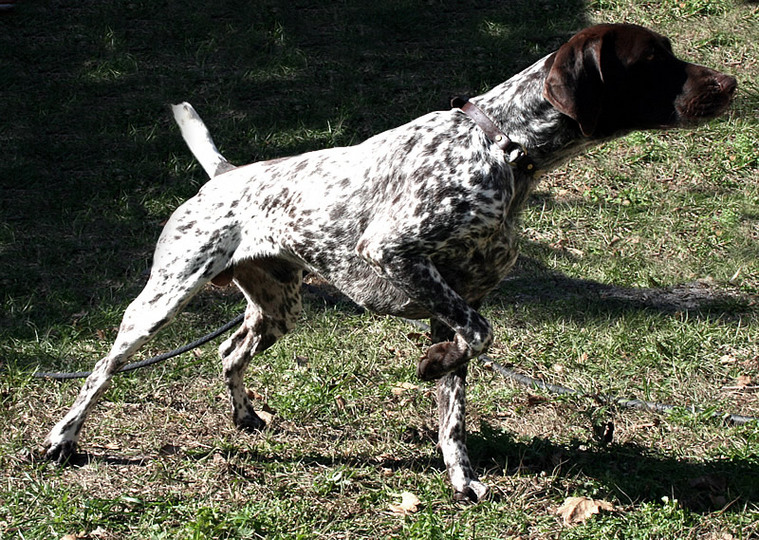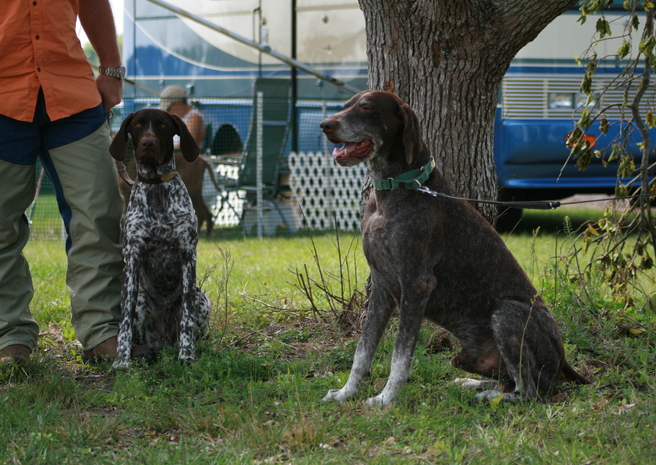 CH. Slipstream Two Moons A Ticken JH CAX
(CH Ersehnen Designer Genes CD JH VC x CH Marquis Berihill DesignT'Fly RE JH NA NAJ VC)

aka, Shiloh...

We started the hunt for a German Shorthaired Pointer after losing Whirly. The house was quiet with just one dog. Dave had wanted a short hair ever since Modesto, a ball crazy, solid liver GSP had come through the training center several years prior. Jen began the search by looking online, focusing on breeders listed under the German Shorthair Pointer Club of America website. One site led to another, and a few weeks into her search Jen found a breeder who still had one puppy left out of an eight-week-old litter. There were photos of each puppy show-stacked, and we were both drawn to the same pup… the one with the blue collar. Of course, there was no mention as to which puppy remained. A quick inquiry to the breeder and we discovered that the sire's owner was an old friend of ours and things really got rolling. The available pup was indeed the blue boy. Guess we should have known. A couple of weeks later Shiloh caught a ride to Florida with his sister Anja, who lives over on Florida's west coast (lucky girl!). Thank you so much to Dorothy Thompson (Inverness GSPs) and Missy Neal (Slipstream GSPs) for our beautiful boy.
Shiloh is a ball driven, birdy, always on-the-hunt kinda boy. If we are up before daylight, it is time to hunt. If he has hunted the yard and comes in for a break, then it is time to hunt the yard again. We had some lovely stands of saw palmetto grass in our front yard in Florida, and those became the spotted one's personal hunting plots. Like any plundered land they tried hard to make a comeback to no avail. It's actually okay. Jen always thought they were oddly placed in the yard anyhow.


Shiloh's first "true" snow day, Newnan, Ga.
February 13, 2010
Shiloh getting some ground time during a Hunting Dog Stake with Tampa Bay Vizsla Club while at Circle C in Mascotte, Fl. Flushing and gunning for us is Bob Giatanis.
Shiloh came late to the Field Trial world, only running two Derby stakes before aging out. In this, his first Open Derby, he placed third in a 14 dog stake on February 15, 2009 at Circle C. In his second and last stake the next day, he earned a Judge's Award of Merit in a similarly sized Open Derby.
Making his first live retrieves-to-hand during Hunting Dog Stakes with Timucuan Weimaraner Club of Florida at Rodman Plantation in Palatka, Fl. February 8, 2009
Final Junior Hunter leg.
Masaryktown, Fl. October 26, 2008
Given the choice, where else would a guy rather spend his 40th birthday than in the field at a TBVC Hunt Test in Lake Wales, Fl.?! Had a really good day getting 9's from both judges in hunting and trainability - just no birds to be found...

October 19, 2008
Shiloh became the first Slipstream Champion on June 22, 2008, going Best of Winners and Best of Opposite Sex over top specials for his final Major (4pt) in Orlando, Florida. He was two weeks shy of being a year old when he finished!
Shiloh getting some yard training in.
May 3, 2008
The night Shiloh and his Vizsla brother, Ember, unintentionally named our little band.
June 4, 2008
Shiloh exhibiting some of his beautiful movement at Perry, Ga on April 13, 2008

.
Shiloh at one of his first Hunt Tests, and getting to see his daddy! This was at Circle C, Mascotte, Fl. on March 16, 2008.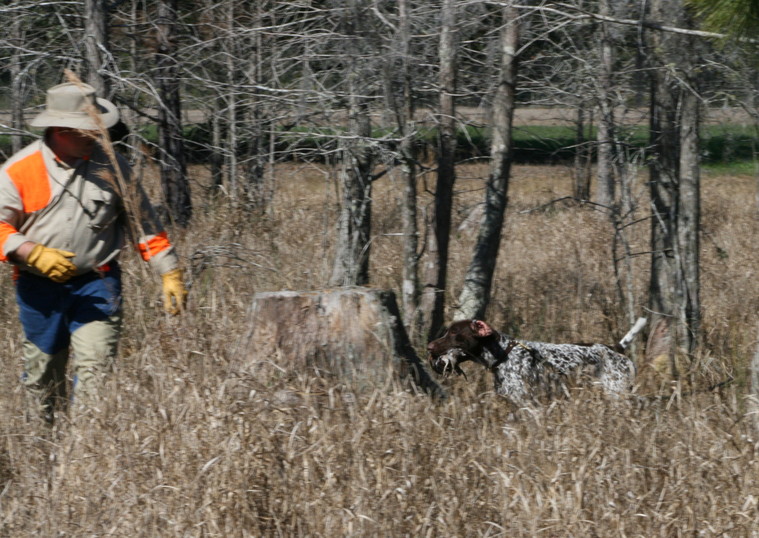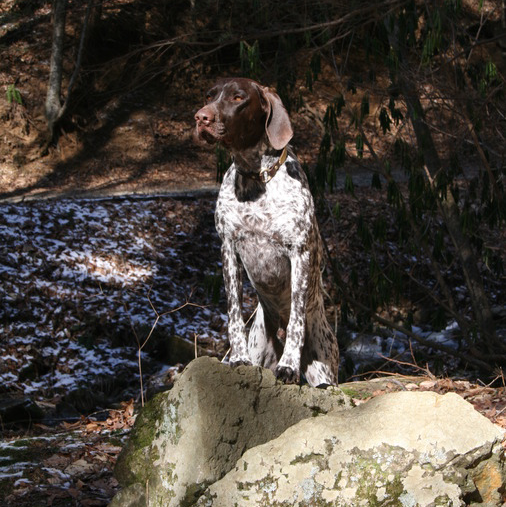 An early "snow trip" to Asheville, N.C. The snow in the background was as good as it got.
January 17, 2009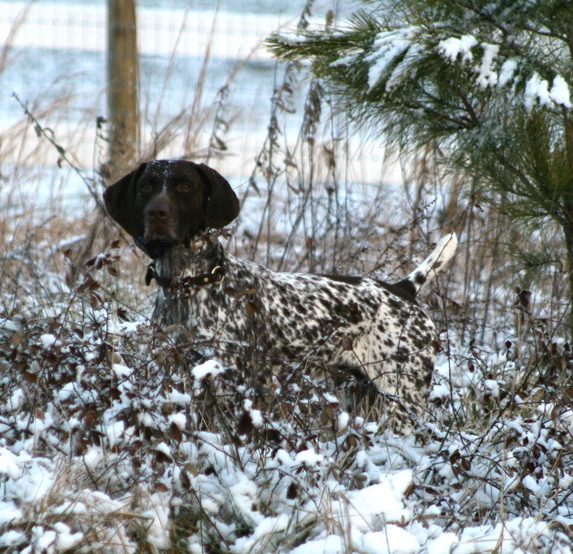 Shiloh hunting the "Estate's" bird field Christmas Day, 2010.
Shiloh completed his AKC Conformation Championship at just less than one year of age. He earned all four legs of his Junior Hunter title in October 2008, and in Spring 2010 he began training for agility. After only two months of training Shiloh made his agility debut at the 2010 German Shorthair Pointer Club of America National Specialty Show (as seen below). While he is still trying to see the point of jumping when he can go around, he has lovely form. Form he showed Dave one afternoon by leaping over a 3' construction fence blocking off part of the yard. As Shiloh stretched in the air, soaring over the fence he turned his head and smirked at Dave as if to say, "haHAA! Look what I can do!" Look for Shiloh out in the agility ring soon.
BREAKING NEWS!!

(Sometimes called a shameless brag)
Shiloh becomes the first GSP to earn the AKC Coursing Abilities title, Coursing Abilities Advanced & now the Coursing Abilities Excellent title (04/13/2012)!!

Photo by Uma Rapiti Photography